In my recent regular reading through the Old Testament, I've been in Everyone's Favorite Book™: Leviticus.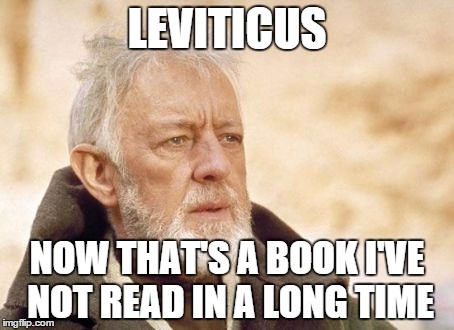 The last time I read through Leviticus was probably 20 years ago. And wow! I had no idea how much I had never noticed before!
Here's one that jumped out at me like a giant, flashing neon sign. Lots of people know Jesus said, when breaking the Passover tradition with His disciples and inaugurating Communion, "I tell you that from now on I will not drink of the fruit of the vine until the kingdom of God comes" (as worded in Luke's account). It's just kind of "in there", but how often have you given it any thought? About as often as me, huh? Of all the things Jesus could have told His disciples, why this? Why here?
Enter Leviticus. No, really. Specifically, 10:8-11 (right after the account of Nadab & Abihu bringing "strange fire" before the Lord):
"And the Lord spoke to Aaron: 'Drink no wine or strong drink, neither you nor your sons, when you enter the tent of meeting, that you may not die; it is a statute forever throughout your generations. You are to distinguish between the holy and the common, and between the unclean and the clean; and you are to teach the people of Israel all the statutes that the Lord has spoken to them through Moses.'
This is explained, albeit only obliquely, if you're not familiar with Levitical Law (which the original audience of the letter would have been, unlike most people like you and I) in the epistle to the Hebrews:
"Therefore he had to become like his brothers and sisters in every respect, so that he might be a merciful and faithful high priest in the service of God, to make a sacrifice of atonement for the sins of the people." (2:17)
"Therefore, brothers and sisters, holy partners in a heavenly calling, consider that Jesus, the apostle and high priest of our confession, was faithful to the one who appointed him, just as Moses also 'was faithful in all God's house.'" (3:1-2)
"Since, then, we have a great high priest who has passed through the heavens, Jesus, the Son of God, let us hold fast to our confession. For we do not have a high priest who is unable to sympathize with our weaknesses, but we have one who in every respect has been tested as we are, yet without sin. Let us therefore approach the throne of grace with boldness, so that we may receive mercy and find grace to help in time of need." (4:14-16)
As the guys I used to have a bi-weekly study with would often say – it's almost like God knew what He was doing! And Jesus knew His word (not that He shouldn't – He is the Word of God incarnate, after all). Just like He demonstrated when refuting the Devil's temptations in the desert.
Don't let anyone tell you the Old Testament needs to be "unhitched" from your faith! Don't let those exacting details get you down! It's all of those exactingly-precise details that were fulfilled in their complete and utter entirety in the person and work of Jesus Christ!
How many other connections can you find in Jesus' final hours, Exodus, and Leviticus? Share them here!